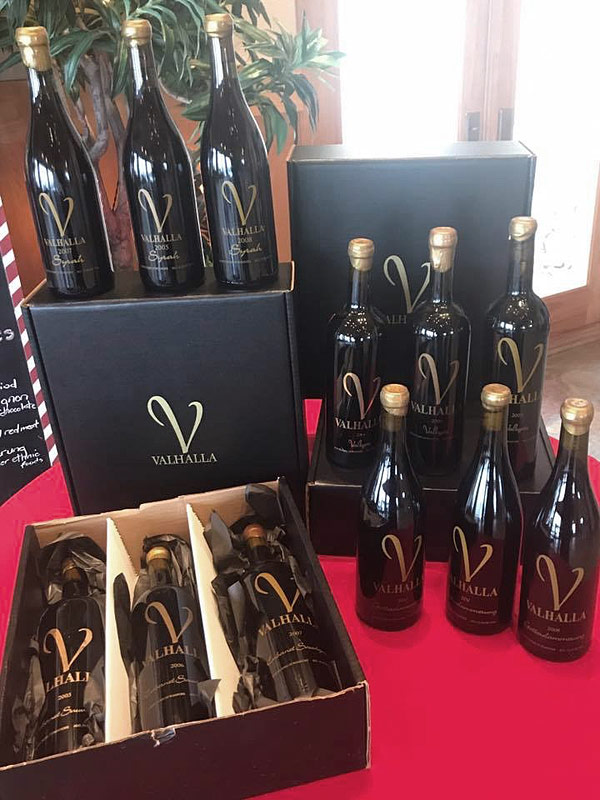 Valhalla was conceived as a vineyard and winery to allow us to strive for perfection.  With each new vintage, there was something new to discover, learn and improve. Many of you, our friends and customers, helped us plant our vines or were with us to harvest the first fruit. We continue to produce and provide world class wines.
Acquiring the property in 1994, James and Debra Vascik began to clear away the peach trees that originally covered the landscape to make way for the grape vines to be planted. Valhalla was the first vineyard outside of California to produce Alicante Bouschet, and among the first to grow Syrah in Virginia. In 1996, construction began on the winery and barrel cave. While excavation for the cave, a Buddha statue was unearthed in the depths. With no idea of why Buddha was left behind, and the knowledge of his good karma, he now blesses our winery and vineyard. The barrel cave at 60 feet underground has the perfect conditions of year round temperature, steady humidity, and darkness to properly age wines for hand crafted beauty. Reminiscent of French caves, our cave is lined with up to 300 barrels representing four vintage years at Valhalla.
Vines take around three years to produce fruit, and our first estate vintage was of 1998, and definitely worth the wait. Upon release of these wines in the year 2000, the 1998 Syrah was awarded the ultimate award, the Governor's Cup. It was an honor to us after just coming on the market to have such accolades for our wines. The wines from that day on have continued to "raise the bar" in wine production across America. We have continued to win over 100 International and National awards for our wines and have been featured in Wine Spectator and Decanter Magazines.
To showcase our amazing wines, only the nicest tasting facility would be constructed atop our 2000 foot mountain. Capturing the allure of our elevated site construction began in 2003 on the "Cellar Door" which is Valhalla's Great Hall. The doors swung open April 2004 to welcome guests from all over the world to our Estate.
Come join us for a tasting, or glass of Valhalla wine and see where worlds collide. Memories are created every day at Valhalla, where it is always a special occasion.